---
Edward Herrmann :: Richard Gilmore
Držitel ceny Tony a Emmy Award, herec Edward Herrmann sa môže pýšit pôsobivou, viac než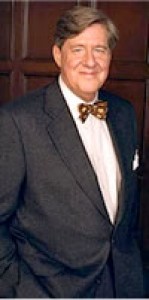 tridsatrocnou kariérou v divadle, filme a televízií.
Jeho práca na Broadwayi zahrna Mrs. Warren's Profession, za ktré získal Tony Award; The Philadelphia Story, za ktoré bol nominovaný na cenu Tony; Plenty a Love Letters.
Stvárnil pamätné role vo filmoch ako Nixon, Ritchie Rich, Born Yesterday, Lost Boys, Compromising Positions, The Man With One Red Shoe, The Purple Rose of Cairo, A Little Sex, The Great Gatsby, Annie, Reds, The Great Waldo Pepper, The Day of the Dolphin, Critical Care, Overboard, Big Business, Mrs. Soffel, Takedown, The Paper Chase, Double Take, The Cat's Meow, Down a The Emperor's Club. Zahral si vedlajšiu rolu vo filme bratov Coenovcov Intolerantable Cruelty a nedávno sa dokoncil film Gena Hackmana, Welcome to Mooseport, ktorý bol pod jeho záštitou.
Objavil sa v šest-dielnej televíznej ságe The Practice, za ktorú r.1999 získal Emmy Award. Taktiež hostoval v 200-tom výrocnom diely Law & Order (= Právo a poriadok) a opakovane v seriáli Oz. Za jeho prácu v St. Elsewhere, vo filmoch Concealded Enemies a Eleanor and Franklin: The White House Year získal nomináciu na cenu Emmy.
Herrmann sa casto vracal na divadelné dosky, kde hral v novej hre Neila Simona, The Dinner Party, na Mark Taper Forum v Los Angeles. V r.2002 si pocas Williamstown Theatre Festival zahral v hre Educating Rita, ktorá bola režírovaná Brucom Paltrowom.
Herrmann má za sebou viac než 50 nahraných kníh, vrátane najnovšej knihy zo série Toma Clancyho Net Force. V r. 1999 mu bola udelená cena AUDIO Award za jeho prácu na úplnej nahrávke knihy The King James Bible.
Dalej, pracuje ako rozprávac dokumentov History Lost and Found a Founding Fathers pre A&E Channel. Takisto pokracuje v svojej práci hlásatela pre History Channel ako aj v práci hostitela seriálu The Ultimate Auto, ktorá ho ustanovila hlavnou osobnostou automobilového hobby. Je aj pravidelným úcastníkom relí a automobilových show.
R. 2004 bol vyznamenaný jeho alma mater, Univerzitou Buckenell, za vynikajúci úspech v jeho profesii.
Filmografia
Paper Chase, The (1973)
Thomas Craig Anderson
The Day of the Dolphin(1973)= Den delfína
Mike
The Great Gatsby(1974)= TheVelký Gatsby
Klipspringer
The Great Waldo Pepper (1975)= Velký Waldo Pepper
Ezra Stiles
The Betsy(1978)
Dan Weyman
The North Avenue Irregulars (1979)
Rev. Michael 'Mike' Hill
Brass Target (1979)
ol. Walter Gilchrist
Reds (1981)= Cervení
Max Eastman
Harry's War (1981)
Harry Johnson
A Little Sex(1982)
Tommy
The Electric Grandmother(1982)
Father
Death Valley (1982)
Paul Stanton
Annie (1982)
FDR
Mrs. Soffel (1984)
Peter K. Soffel, Warden Alleghen
The Man with One Red Shoe (1985)= Muž s cervenou topánkou
Brown
Compromising Positions (1985)
Bob Singer
The Prodigious Mr. Hickey (1987)
Headmaster (= Riaditel)
Overboard (1987)= Cez palubu
Grant Stayton III
The Lost Boys (1987)= Ztracení chlapci
Max
Big Business (1988)= Kšeft za všechny prachy
Graham Sherbourne
My Boyfriend's Back (1993)
Mr. Dingle
Born Yesterday (1993)= Vcera narodení
Ed Devery
Richie Rich (1994)=Sám doma a bohatý
Richard Rich Sr.
Foreign Student (1994)
Zach Gilmore
Don't Drink the Water (1994)
Mr. Kilroy
Nixon (1995)
Nelson Rockefeller
Here Come the Munsters (1995)
Herman Munster
The Face on the Milk Carton (1995)
Frank Jessmon
Soul of the Game (1996)
Branch Rickey
A Season in Purgatory (1996)= "V ocistci"
Dr. Shugrue
Pandora's Clock (1996)= Pandorina skrinka
President
Critical Care (1997)= Kritická starostlivost
Robert Payne
Saint Maybe (1998)
Doug
Frank Lloyd Wright (1998)
Narrator (hlas)
Walking Across Egypt (1999)
Reverend Vernon
Atomic Train (1999)= Atómový vlak
The President
The Cat's Meow (2001)= Lepší spolecnost
William Randolph 'W.R.'/'Willie'
Down (2001)
Milligan
James Dean (2001)
Raymond Massey
Double Take (2001)= Bezva finta
Charles Allsworth
The Emperor's Club (2002)= Klub vyvolených
Headmaster Woodbridge
Intolerable Cruelty (2003)= Neznesitelná krutost
Rex Rexroth
Gilmore Girls Backstage Special (2004)
Edward Herrmann
Look Inside 'Intolerable Cruelty', A (2004)
Edward Herrman
Bereft (2004)
Otec
The Aviator (2004)= Letec
Joseph Breen
The Presidents(2005)
Host
Relative Strangers (2005)
Doug Clayton
A Love of Time(2005)
Capt. Sallee
Relative Strangers(2006)
Doug Clayton
Televízne role
Gilmore Girls
Richard Gilmore
Lincoln
hlas Abrahama Lincolna
Hostujúce role
Show
Rola
Diel
Alfred Hitchcock Presents (1985)
Dr. Stoddard/Litton
The Mole
Crossing Jordan
Tom Malden
Pandora's Trunk (2)
Hallmark Hall Of Fame
Folsom
Valley Forge
Hallmark Hall Of Fame
Doug Bedloe
Saint Maybe
Hallmark Hall Of Fame
George Bernard Shaw
Dear Liar
Homicide: Life on the Street
Thomas Pandolfi
M.E., Myself and I
Law & Order
Mr. Mosbeck
Empire
Law & Order
Father Drew Seeley
Progeny
M*A*S*H
Captain Dr. Steven J. Newsome
Heal Thyself
Modern Marvels
Host & Narrator
4x4
St. Elsewhere
Father Joseph McCabe
Time Heals (1)
St. Elsewhere
Father Joseph McCabe
Time Heals (2)
St. Elsewhere
Father Joseph McCabe
Where There's Hope, There's Crosby
The Munsters
Herman Munster
Here Come the Munsters
Wings
Y.M. Burg
So Long, Frank Lloyd Wrong
Opakujúce sa role
Show
Rola
Diel
Oz
Harrison Beecher
Cuts Like a Knife
Oz
Harrison Beecher
A Cock and Balls Story
Oz
Harrison Beecher
Gray Matter
Oz
Harrison Beecher
Dead Man Talking
Oz
Harrison Beecher
Works of Mercy
Oz
Harrison Beecher
Obituaries
The Practice
Anderson Pearson
The Defenders
The Practice
Anderson Pearson
The Battlefield
The Practice
Anderson Pearson
Trench Work
The Practice
Anderson Pearson
Body Count
The Practice
Anderson Pearson
Honor Code
The Practice
Anderson Pearson
Trial And Error
The Practice
Anderson Pearson
Pilot
The Practice
Anderson Pearson
Part IV
The Practice
Anderson Pearson
Another Day
The Practice
Anderson Pearson
Reasons to Believe